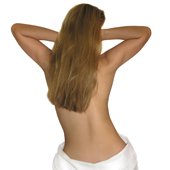 Most women are predetermined to sagging arm muscles over time. Arms (Lat: brachium) is the largest and longest section of the upper limb between the shoulder and elbow. It consists of one upper arm bone (humerus), which articulates through the shoulder joint head with the scapula in the shoulder joint and distal the elbow joint, with the radius and ulna bones. Here it passes into the forearm.
With increasing age, the skin on the arms loses its elasticity. The skin becomes loose and also a greater reduction in weight may result in surpluses of skin and subcutaneous tissue causing discomfort, not only aesthetically, but also hygienic and may lead to the development of skin inflammation.
Most women are predetermined to receding arm muscles over time and to fat deposition on the back side of the arms which may result in unsightly "bags" hanging from the back of the arm.
In most cases, sporting activities performed on a variety of modern equipment in the fitness centers are not enough.