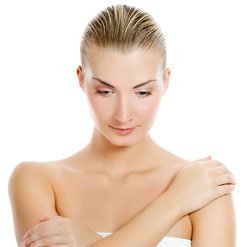 Many women take care of their face, but often forget the neck and décolletage. The consequences will then show very soon, especially in the swimsuit season this may surprise you very unpleasantly.
Neck wrinkles 
Smooth skin of the décolletage easily shows our age, both because of its high sensitivity and for the minimum amount of adipose tissue. The skin of your décolletage begins to wrinkle and slacken very quickly. 
Moles in the decollete
The skin of the décolletage is very sensitive and thus, freckles and moles are easy to form.The situation worsens in periods of intense solar radiation. Freckles and moles may form large maps. One solution to wrinkles in the décolletage as well as unwanted moles are either non-invasive or invasive mesotherapy, laser treatment, chemical peeling, carboxytherapy or intense pulsed light. 
Skin growths 
The skin of the décolletage may also be affected with skin growths having either unsightly effects or even bothering when dressing, especially at the edges of clothing, which often leads to irritation of the protuberance. They can be removed surgically, by laser or by CryoPen. Very important is the protection against solar radiation that causes faster aging of the skin. The décolletage, as a large area, is often exposed to the sun and deserves twice as much protection.